Micatu GridView™ Voltage and Current Sensors Reviewed by NYSP2I for Performance and Accuracy
3/8/2017: Approved for Release: Micatu GridView™ Sensors Reviewed by NYSP2I for Performance and Accuracy
Micatu Final Report _NYSP2I _ 20170216
The New York State Pollution Prevention Institute (NYSP2I), at Rochester Institute of Technology (RIT), in partnership with Clarkson University (Clarkson), evaluated Micatu, Inc.'s GridView™ sensor performance with respect to industry standard medium voltage and current sensors.
This project was supported by the NYSP2I through its Green Technology Accelerator Center (GTAC). NYSP2I at Rochester Institute of Technology (RIT), worked together with Clarkson University (Clarkson) to support Micatu with an independent evaluation of the performance of their GridView™ system.
"Micatu engaged the resources of NYSP2I team to provide us with a wholly independent empirical review of our "all optical" sensor for medium voltage (MV) and current measurements. Finding a "world class" organization with the technical skills and measurement capabilities to provide an accurate, non biased, non-affiliated review of our "GridView™" sensor performance against a reference standard, was a challenge. As a result, Micatu is well on its way to helping utilities become more efficient and to reduce GHG emissions," stated Michael Oshetski – Micatu's CEO.
NYSP2I's work resulted in key findings relative to the potential performance improvements and environmental impacts of Micatu's GridView™ sensors.
"In New York State alone, the adoption of Micatu's sensor technologies would effectively reduce CO2 emissions by 254,000 metric tons each year as well as return $9.4 million dollars in OPEX savings" stated Mike Jagielski – Micatu's COO. "Micatu can significantly help NYS utilities achieve their REV (Reforming the Energy Vision) goals" he added.
NYSP2I_Performs_Evaluation_of_Micatus_GridView_Voltage_and_Current_Sensors
Key Findings from the Study: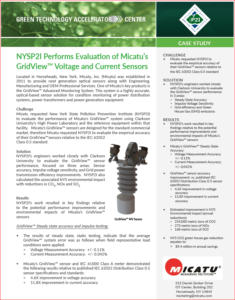 Micatu's GridView™ Steady State Accuracy:
Voltage Measurement Accuracy: +/- 0.11%
Current Measurement Accuracy: +/- 0.042%
Gridview™ Sensor Accuracy Improvement: vs. Published IEC 62052 Distribution Class 0.5 Sensor Specifications
4.6X improvement in voltage accuracy
11.8X improvement in current accuracy
Estimated improvement in NYS Environmental impact (annual reductions):
254,000 metric tons of CO2
273 metric tons of NOx
168 metric tons of SO2
New York State CO2 Green House Gas Reduction equates to $9.4 million in annual recurring savings